Paolo Geminiani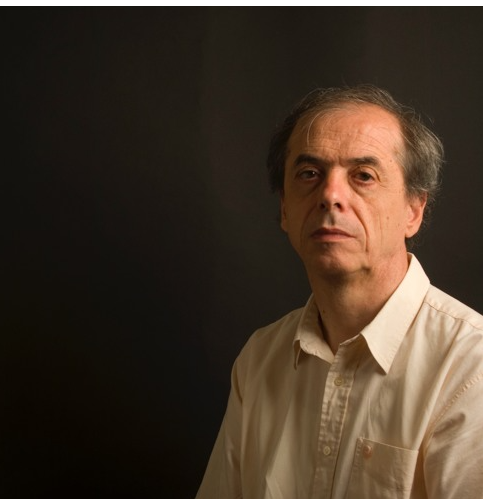 PAOLO GEMINIANI (1960)
Studied in composition, electronic music, choral music and choral conducting, band instrumentation at the conservatoires of Bologna and Modena with Cristina Landuzzi and Lelio Camilleri, and finally advanced Master at Verona Opera Academy with Azio Corghi and ICONS Academy Novara with Alessandro Solbiati. Other courses with Franco Donatoni, Adriano Guarnieri, Alvise Vidolin, and masterclasses: Gyorgy Ligeti, Gerard Grisey, Goffredo Petrassi, Niccolò Castiglioni.


He has won and received commendations at various competitions including: Gustav Mahler Klagenfurt, Volos International Guitar Composition Competition, Counterpoint International, SuonoSonda Genova, Daegu Contemporary Music Orchestra, Valentino Bucchi Prize Rome, Florence String Quartet, Pierre Schaeffer Pescara, Egidio Carella Val Tidone, Reggello International Festival, IBLA Grand Prize, Premio Romualdo Marenco, Assisi Suono Sacro, ISCM World Music Day and many others.


His works performed in Slovenia, UK, South Corea, Japan, Canada, USA, Argentina, Brazil, Australia: Sydney International Composers Concert Verbrugghen Hall, Universidade de Évora, Museu Condes de Castro Guimaraes di Cascais, Auditório do Departamento de Comunicação e Arte, Universidade de Aveiro (Portugal), Sound Thought Festival Centre for Contemporary Arts Glasgow, Spectrum, Carnegie Hall, North/South Chamber Orchestra, Lefrak Hall Queens College, Steinway Hall and Legacy Hall, New York City Electroacoustic Music Festival (NYC), Center for the Performing Arts of University of Wisconsin Green Bay, Columbus State University, Isaacs Auditorium Selingrove (USA), Sauble Beach Guitar Festival Canada, International Contemporary Music Festival di Deagu (South Corea), Saint Giles' Cripplegate London, Sala Menhuin Parlamiament of Europe Bruxelles, DAMus UNA Sala García Morillo, Ruidalsud Festival Internacional de Música Contemporánea San Juan, Guitarras en San Juan Festival (Argentina), 49th Festival Musica Nova "Gilberto Méndes" Ribeirão Preto, IV BIMESP San Paolo Brazil Guitar Festival Lipica, ISCM World Music Day Slovenia, Hagi Origami Museum Japan. In Italy: Rebus Milano, Festival di Bellagio, Milano Cinque Giornate, New Made Week, Italian Composers Forum, Urticanti Bari, Festival Musica Contemporanea Italiana Forlì, Contemporaneamente Reggio Calabria, Domenica del quartetto Firenze, Sulle Ali del Novecento Brescia, Cluster–Compositori Europei Lucca, Risuonanze, Festival Camino Contro Corrente, MiXXer Ferrara, Chamber Music Festival Lucca, Oltre il contemporaneo, 3 Quarti d'ora di Musica, Organi Antichi, Con-Vento Contemporaneo, Nuovi Orizzonti Sonori Bologna, Settimana del contemporaneo Faenza. Works performed by Sidney Contemporary Orchestra, BRNO Philharmonic Orchestra, Slovene Philharmonic String Chamber Orchestra, Daegu Contemporary Music Orchestra, Uroboros Ensemble, North/South Chamber Orchestra, New MADE Ensemble, Dedalo Ensemble, Ensemble Antidogma, Phoenix String Quartet, Quartetto Ascanio, Marino Bedetti, Linda Wetherill, Arcadio Baracchi, Andrea Ceccomori, Rephael Negri, Leopoldo Saracino, Alessandro Cazzato, Carmine Rizzi, Antonella Bini, Donato D'Antonio & Vanni Montanari, Silvio Zalambani & Amerindia ensemble, Duo Novecembalo, Chiara Urli, Ensemble Suono Sacro, Soundiff Ensemble, Ensemble Filomusia. Works selected from SIMC, Centro Musica Contemporanea Milano, ISCM for concerts. In 2016, in collaboration with the violinist Alessandro Cazzato, carried a series of concerts and masterclasses in Portugal and USA.


Collaborations with various musicians and institutions like Emilia Romagna Festival & Massimo Mercelli, organist Andrea Macinanti, guitarist Donato D'Antonio & Carlo Zauli Museum, Trio Eccentrico, composer Nicola Monopoli & Soundiff Barletta, violinist Carmine Rizzi, flutist Antonella Bini, and others. Scores published in Italy by Ut Orpheus Bologna, Sconfinarte, MAP Editions, Berben edizioni, Agenda edizioni, TEM-Taukay. CD's by Tactus edizioni, ABLAZE Records, RMN Label, Soundiff Barletta, Accademia Pescarese, MobyDick Faenza, SuonoSonda Genova. Actually teaching in Fermo (Italy), Conservatorio G.B. Pergolesi.