Leopold Auer Society will promote the name of the great teacher, collect all possible information about his family history, musical descendants and their histories. The Society will research documents about Leopold Auer, organize seminars, competitions as well as help young musician and teachers to get more information about Leopold Auer's teaching method success.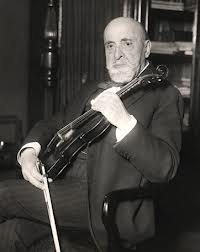 2015 marks the 170th anniversary of the birth, and the 85 anniversary of the death, of the great teacher, violinist, conductor, and ensemble player of the 19th and 20th centuries, Leopold Auer.
His musical activity has been linked to many countries, but most important was his contribution to the creation and development of the Russian and the American violin schools.
Visitors and members of the Leopold Auer Society will be able to see and hear unique photo and video materials, documents and recordings associated with Leopold Auer and his musical heirs, sometimes undeservedly forgotten.