Leopold Auer (Hungarian: Auer Lipót)

June 7, 1845 – July 15, 1930
Hungarian violinist, chamber music player, conductor, composer and teacher
Early life and career
 
Auer was born in Veszprém in 1845 in a Jewish household. He first studied violin with a local concertmaster. At age 8 he continued his studies with Ridley Kohné at  Budapest Conservatory. His debut with the Mendelssohn concerto aroused the interest of some wealthy patrons, who sent him to Vienna for further study under a scholarship. He lived at the home of his teacher, Jakob Dont. In his memoirs, Auer wrote that Dont was the one who taught him the foundation for his violin technique. In Vienna he also attended quartet classes with Joseph Hellmesberger, Sr.
By the time Auer was 13, the scholarship money had run out. His father decided to launch his career. The income from provincial concerts was barely enough to keep father and son out of poverty. An audition with Henri Vieuxtemps in Graz was a failure. A visit to Paris proved equally unsuccessful. Auer decided to seek the advice of Joseph Joachim, then royal concertmaster at Hanover.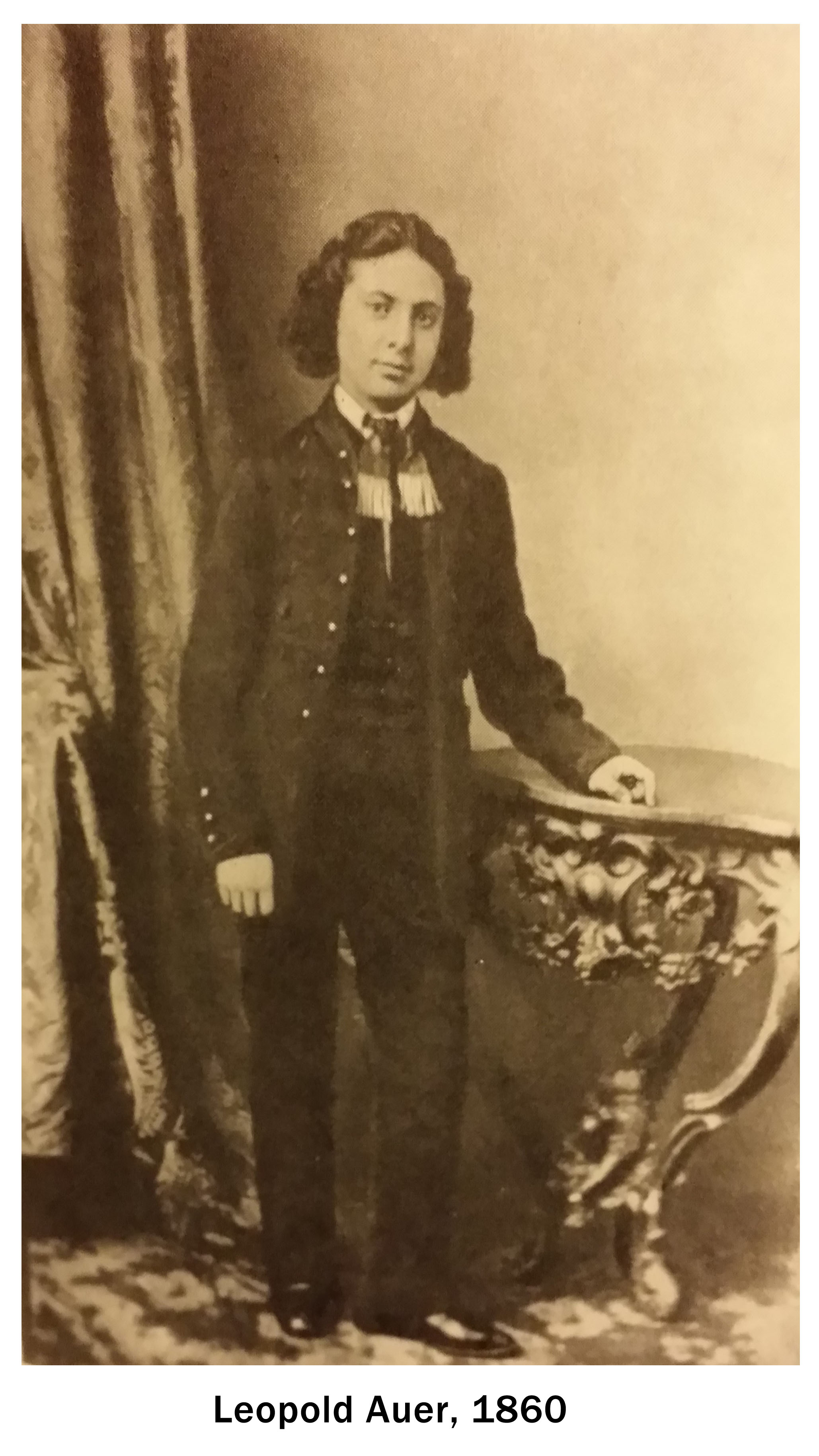 The two years Auer spent with Joachim (1861–63) proved a turning point in his career. More than through lessons, he learned through observation and association. He was already well prepared as a violinist. What proved revelatory was exposure to the world of German music making—a world that stresses musical values over virtuoso glitter.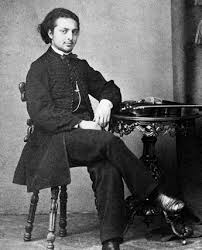 Auer later wrote:
"Joachim was an inspiration for me and opened before my eyes horizons of that greater art of which until then I had lived in ignorance. With him I worked not only with my hands but with my head, studying the scores of the great masters and endeavoring to penetrate the very heart of their works…. I also played a great deal of chamber music with my fellow students"
     
Joseph Joachim                                        Joseph Joachim 1884
 Auer returned to the concert stage in 1864. Success led to his becoming concertmaster in Düsseldorf. In 1866, he assumed the same position in Hamburg; he also held a string quartet there. On a visit to London in 1868, he was invited to perform Beethoven's Archduke Trio with pianist Anton Rubinstein and cellist Alfredo Piatti. Rubinstein was in search for a violin professor for the Saint Petersburg Conservatory and he suggested Auer. Auer agreed to a three year contract; he would actually stay for 49 years.
Russia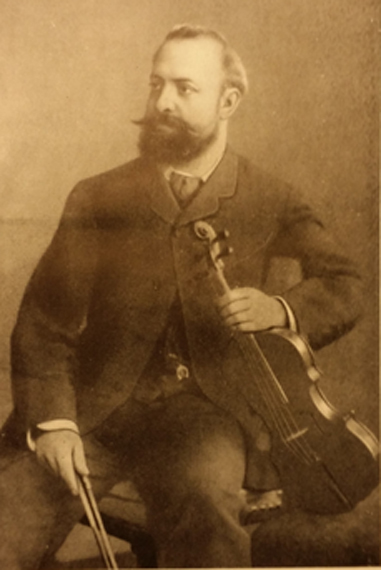 In 1868 he moved to St. Petersburg.
Russia extremely attracted Auer by the prospects of performing and teaching activities.   His hot and energetic nature was captivated by the intensive musical and cultural life of the Northern Capital of Russia, and Auer, initially intended to live here only 3 years, again and again renewed the contract and together with Henri Vieuxtemps  and Henryk Wieniawski become one of the most active founder of Russian Violin School .
 

Henri  Vieuxtemps 1842  

    

Henri  Vieuxtemps 1860

       

     Henryk Wieniawski       

           
Auer got married on the 23 May 1874. His wife Nadezhda Pelikan was niece of Mikhail Azanchevsky, director of the St. Petersburg Conservatory ( 1871-1876).
They got four daughters Zoe, Maria, Nadezhda and Natalia.
During that time he held the position of first violinist to the orchestra of the St. Petersburg Imperial Theatres. This included the principal venue of the Imperial Ballet and Opera, the Imperial Bolshoi Kamenny Theatre (until 1886), and later the Imperial Mariinsky Theatre, as well as the Imperial Theatres of Peterhof and the Hermitage. For nearly 50 years, Auer performed almost all of the violin solos in the ballets performed by the Imperial Ballet, the majority of which were the work of the choreographer Marius Petipa. Many of the noted ballet composers of the day, such as Cesare Pugni, Ludwig Minkus, Riccardo Drigo, Pyotr Ilyich Tchaikovsky, and Alexander Glazunov, wrote the violin solos of their scores especially for his talents.

Sometime around 1870, Leopold decided to convert to Russian Orthodoxy.
Until 1906 he was also leader of the string quartet for the Russian Musical Society (RMS). This quartet's concerts were as integral a part of the Saint Petersburg musical scene as their counterparts led by Joachim in Berlin. Criticism arose in later years of less-than-perfect ensemble and insufficient attention to contemporary Russian music. Nevertheless, Auer's group performed quartets by Tchaikovsky, Alexander Borodin, Glazunov and Nikolai Ri  msky-Korsakov. The group also played music by Johannes Brahms and Robert Schumann, along with Louis Spohr, Joachim Raff and other secondary German composers.
Auer also continued performing sonatas with many great pianists. His favorite recital partner was Anna Yesipova, with whom he appeared until  her death in 1914. Other partners included Anton Rubinstein, Theodor Leschetizky, Raoul Pugno, Sergei Taneyev and Eugen d'Albert. In the 1890s, he performed cycles of all 10 Beethoven violin sonatas. He also introduced the violin and piano sonatas of Brahms.



St. Petersburg Conservatory 1900
America
Leopold Auer in the USA
The Russian Revolution of 1917 changed the face of Russia forever and forced Auer's departure the following year. He left for New York on February 7, 1918, arriving ten days later. Auer was 73 years old.  He played at Carnegie Hall on March 23, 1918 and also performed in Boston, Chicago and Philadelphia. He carried with him two trunks and his Stradivarius violin. His many former pupils greeted him with open arms and a warm reception, including Mischa Elman, Efrem Zimbalist, Jascha Heifetz, and Max Rosen. He taught some private students at his home on Manhattan's Upper West Side.
Performances in New York, Boston, Chicago, and Philadelphia were enormously acclaimed. Auer went on to teach at the Institute of Musical Art in New York City (later to become the Juilliard School). and at the Curtis Institute of Music in Philadelphia.
In 1926, Auer became a U.S. citizen, once again finding a niche to satisfy his talent and passion for his art. When he put his memories into a book, My Long Life in Music, in 1923, Auer said, "All that remains is my recollections, those memories deeply graven in my mind, an invisible cupboard lined with innumerable drawers, from which I have taken out and set down in the following pages whatever seemed worthy of recording for those interested in the musical life of Russia since the middle of the nineteenth century."
In 1928 he joined the faculty of the Curtis Institute of Music in Philadelphia. He died in 1930 in Loschwitz, a suburb of Dresden, Germany and was interred in the Ferncliff Cemetery in Hartsdale, New York.

Playing
Pyotr Ilyich Tchaikovsky was especially taken with Auer's playing. Reviewing an 1874 appearance in Moscow, Tchaikovsky praised Auer's "great expressivity, the thoughtful finesse and poetry of the interpretation."
This finesse and poetry came at a tremendous price. Auer suffered as a performer from poorly formed hands. He had to work incessantly, with an iron determination, just to keep his technique in shape. He wrote, "My hands are so weak and their conformation is so poor that when I have not played the violin for several successive days, and then take up the instrument, I feel as if I had altogether lost the facility of playing."
Despite this handicap, Auer achieved much through constant work. His tone was small but ingratiating, his technique polished and elegant. His playing lacked fire, but he made up for it with a classic nobility. After he arrived in the United States, he made some recordings which bear this out. They show the violinist in excellent shape technically, with impeccable intonation, incisive rhythm and tasteful playing.

His musical tastes were conservative and refined. He liked virtuoso works by Henri Vieuxtemps and Heinrich Wilhelm Ernst and used those works in his teaching. Once a student objected to playing Ernst's Othello Fantasy because it was bad music. Auer did not back down. "You'll play it until it sounds like good music," he thundered at the student, "and you'll play nothing else."  He played little Bach. Never did he ever assign any of Bach's solo concertos to a student. The Double Concerto, however, was one of his favorites.
Conducting
Auer was also active as a conductor. He was in charge of the Russian Musical Society orchestral concerts intermittently in the 1880s and 90s. He was always willing to mount the podium to accompany a famous foreign soloist—as he did when Joachim visited Russia—and did the same for his students concertizing abroad.
Teaching
Auer is remembered as one of the most important pedagogues of the violin, and was one of the most sought-after teachers for gifted pupils. Many famous virtuoso violinists were among his pupils, including Mischa Elman, Konstanty Gorski, Jascha Heifetz, Nathan Milstein, Toscha Seidel, Efrem Zimbalist, Georges Boulanger,Benno Rabinof, Kathleen Parlow, Oscar Shumsky, Paul Stassevitch, and Sasha Lasserson. Auer also taught the young Clara Rockmore , who later became one of the world's foremost exponents of the  theremin.
During his 49 years teaching at the St. Petersburg Concervatory he tough more than 275 students.
Like pianist Franz Liszt in his teaching, Auer did not focus on technical matters with his students. Instead, he guided their interpretations and concepts of music. If a student ran into a technical problem, Auer did not offer any solutions. Neither was he inclined to pick up a bow to demonstrate a passage. Nevertheless, he was a stickler for technical accuracy. Fearing to ask Auer themselves, many students turned to each other for help. (Paradoxically, in the years before 1900 when Auer focused more closely on technical details, he did not turn out any significant students.)
While Auer valued talent, he considered it no excuse for lack of discipline, sloppiness or absenteeism. He demanded punctual attendance. He expected intelligent work habits and attention to detail. Lessons were as grueling as recital performances—in fact, the two were practically identical.
In lieu of weekly lessons, students were required to bring a complete movement of a major work. This usually demanded more than a week to prepare. Once a student felt ready to play this work, he had to inscribe his name 10 days prior to the class meeting. The student was expected to have his instrument concert ready and to be dressed accordingly. An accompanist was provided. An audience watched—comprised not only of students and parents, but also often of distinguished guests and prominent musicians. Auer arrived for the lesson punctually; everything was supposed to be in place by the time he arrived. During the lesson, Auer would walk around the room, observing, correcting, exhorting, scolding, shaping the interpretation. "We did not dare cross the threshold of the classroom with a half-ready performance," one student remembered.
Admission to Auer's class was a privilege won by talent. Remaining there was a test of endurance and hard work. Auer could be stern, severe, harsh. One unfortunate student was ejected regularly, with the music thrown after him. Auer valued musical vitality and enthusiasm. He hated lifeless, anemic playing and was not above poking a bow into a student's ribs, demanding more "krov." (The word literally means "blood" but can also be used to mean fire or vivacity.)
While Auer pushed his students to their limits, he also remained devoted to them. He remained solicitous of their material needs. He helped them obtain scholarships, patrons and better instruments. He used his influence in high government offices to obtain residence permits for his Jewish students. He shaped his students' personalities. He gave them style, taste, musical breeding. He also broadened their horizons. He made them read books, guided their behavior and career choices and polish their social graces. He also insisted that his students learn a foreign language if an international career was expected.
Even after a student started a career, Auer would watch with a paternal eye. He wrote countless letters of recommendation to conductors and concert agents. When Mischa Elman was preparing for his London debut, Auer traveled there to coach him. He also continued work with Efrem Zimbalist and Kathleen Parlow after their debuts.
Dedications
A number of composers dedicated pieces to Auer. One such case was Tchaikovsky's Violin Concerto, which, however, he initially chose not to play. This was not because he regarded the work as "unplayable", as some sources say, but because he felt that "some of the passages were not suited to the character of the instrument, and that, however perfectly rendered, they would not sound as well as the composer had imagined". He did play the work later in his career, with the alterations in certain passages that he felt were necessary. Performances of the Tchaikovsky concerto by his students (with the exception of Nathan Milstein's) were also based on Auer's edition. Another work Tchaikovsky had dedicated to Auer was the Sérénade mélancolique of 1875. After their conflict over the Violin Concerto, Tchaikovsky also withdrew the Sérénade's dedication to Auer.
Compositions and writings
Auer wrote a small number of works for his instrument, including the Rhapsodie hongroise for violin and piano. He also wrote a number of cadenzas for other composers' violin concertos including those by Beethoven, Wolfgang Amadeus Mozart and Brahms (see Beethoven Violin Concerto and Brahms Violin Concerto). He also wrote three books: Violin Playing as I Teach It (1920), My Long Life in Music (1923) and Violin Master Works and Their Interpretation (1925). He also wrote an arrangement for Paganini's 24th Caprice (with Schumann's piano accompaniment)later performed by Jascha Heifetz, Henryk Szeryng and Ivry Gitlis, in which the final variation is removed and his own composed. There are also alterations to various passages throughout the piece. Auer edited much of the standard repertoire, concertos, short pieces and all of Bach's solo works. His editions are published mostly by Carl Fischer. He also transcribed a great amount of works for the violin including some of Chopin's preludes.
Relations
Auer's first wife, Nadine Pelikan, was Russian. The jazz vibraphonist Vera Auer is a niece of Leopold Auer. The actor Mischa Auer (born Mischa Ounskowsky) was his grandson. The composer György Ligeti (the name Ligeti is a Hungarian equivalent of the German name Auer) was his great-nephew.