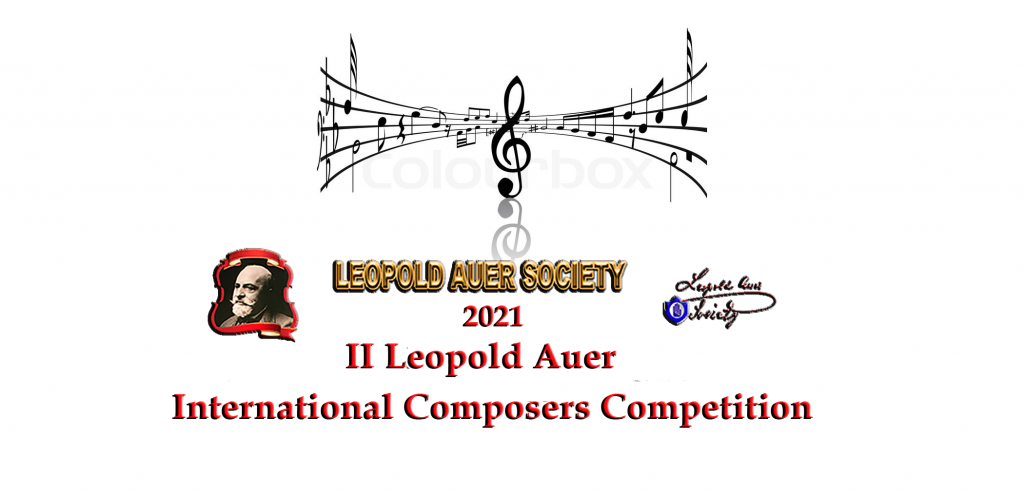 DEAR FRIENDS
LEOPOLD AUER SOCIETY is very happy to announce

CONTEST FOR THE BEST PIECE COMPOSED
FOR VIOLIN SOLO OR VIOLIN AND PIANO.

RULES AND REGULATIONS:
APPLICATIONS DEADLINE: May 15, 2021
Applicants must send:

1.Application form
2. Application Fee ($25)

3.Score and parts (PDF) plus MIDI, video, or audio recording not later than

May 15, 2021
AGE RESTRICTIONS:

None
All contest materials should be sent to:
Leopold Auer Society ( LAS)

leopoldauersociety@gmail.com

SCORES AND RECORDINGS WILL BE REVISED ONLY AFTER APPLICATION AND APPLICATION FEE SUBMITED

Applications Fees:


$25 per entry

(participants allowed to submit up to 3 pieces)
Composition Length:

Maximum 5-6 min
Composition Style:
Any
Composition Difficulty:

Any
Composition Date:

Not earlier than January 1, 2010.
A winning work will be announced not later than

May 30, 2021
The score of the winning work will be distributed among ALL contestants participating the Senior group Division and will be performed as a MANDATORY piece for the Semi-Final of the VIII Leopold Auer International Violin and String Quartet competition.

The winning piece will be performed during the Semi-Final round ( usually 12 participants) and will be future piece for the

Gala concert.
Compensation and prize:


$300 and Diploma of the Winner of Composers Competition
In case the Winner of the Composers competition is willing to attend the performances of his/her piece, the competition will pay transportation to the hotel from and to the airport/train station/bus station, and hotel accommodation in St. Petersburg, Russia for the period from the beginning of the Second round of Senior group until the Gala Concert (usually 3-4 days).
Competition will support the visa application to get to Russia but not responsible for the visa fee, air or train tickets.
After applying you will get confirmation letter from Leopold Auer Society ( LAS) required to send your piece to

LEOPOLDAUERSOCIETY@GMAIL.COM


 The winner of the

FIRST LEOPOLD AUER COMPOSERS COMPETITION 2018
 is
ROBERT RIVAL, Canada
with piece
        "Fantasy on a Theme of Schubert"