MAKSIM STARSHINOV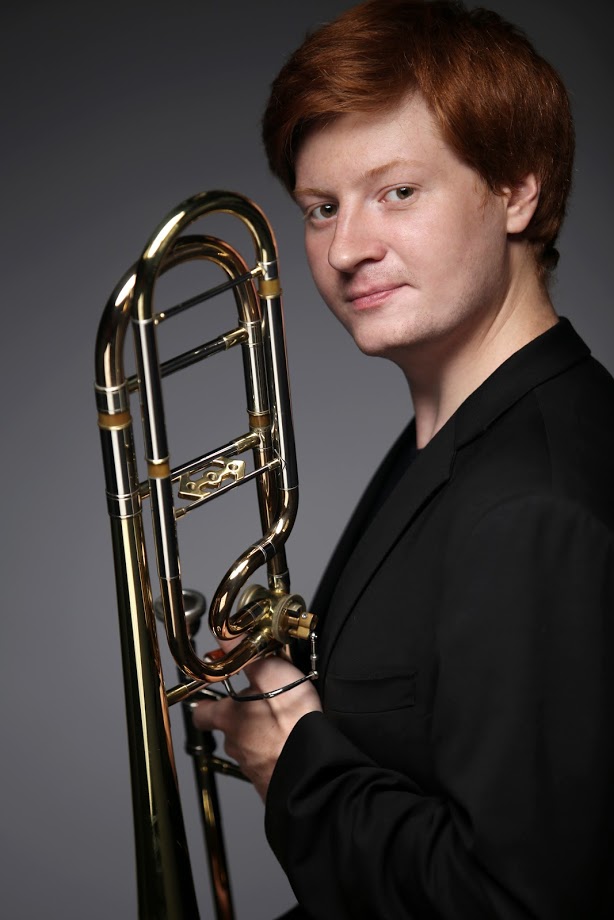 Starshinov Maksim (1994) – trombonist, composer.
Graduated from the Moscow Tchaikovsky State Conservatory , specializing in trombone (class of Professor Victor Batashev)
Soloist of the Russian National Youth Symphony Orchestra (since 2018)
Member of the International Guild of Young Musicians "InternationalMolot" of the Russian Musical Union (since 2020)
Within the framework of the 4th International Festival-Competition of Composers, where Maksim won two I prizes in the category "Instrumental Music" and "Composers-Performers", his works were published in the collection "Music of Composers of the XXI Century" (2017)
Laureate of the Prize of the Charitable Foundation "Creating the Future" (Gazprom, 2017)
Laureate of all-Russian and international competitions:
✳II All-Russian Music Competition (III prize, 2016),
✳International Competition of Composers in the framework of the 9th International Competition for Wind and Percussion Instruments (Diploma for the best piece for solo flute, 2017),
✳1st All-Russian Competition of Symphony Orchestra Artists (I prize, 2018),
✳International competition for new music by live composers "Petrichor Records" (2019), etc.
Maksim performed solo and as part of an ensemble in the Bolshoi, Maly and Rachmaninov halls of the Moscow State Tchaikovsky Conservatory, the Beethoven Hall of the State Academic Bolshoi Theater, the Concert Hall of the Russian Academy of Music. Gnesins, Small Hall of the Philharmonic Society-2, State Great Concert Hall. S. Saidashev, Moscow International House of Music, etc.
Author of a number of works:
For piano:
"Chopin's Polonaise" for piano (2014)
Four Etudes for Piano (2016)
Blues for Piano (2017)
Six Scherzos for Piano (2017-2019)
Collection of children's pieces for piano (2017)
Invention "Battle city" for piano (2017)
Fantasy "Dark Mario" for piano (2017)
"Mephisto Waltz" for piano (2017)
Suite for piano "Emotions" in five parts (2017)
"Lame Dance" for piano (2017)
"Night Elegy" for Piano (2018)
Sonatina for Piano (2018)
"Chase" for piano (2019)
Toccata for piano (2019)
Chamber works:
"Pantomime" for solo flute (2017)
"Winter Caprice" for solo violin (2017)
"Fantasy" for solo trombone (2017)
Percussion Sextet (2018)
String Quartet No. 1 (2018)
Piece for tuba and piano (2019)
"Lady & Gentelman" for cello and tuba (2021)
Works for orchestra:
Symphonic fantasy "Cartoon" (2014)
"Milligan's Demons" for 24 strings (2019)
Symphony No. 1 in C minor (2020)
Among the performers of his works: Lundstrem Peter, Ashurov Mikhail, Tantsova Maria, Beshulya German (violin), Esina Adel (viola), Budo Alexandra (cello), Stanislav Yaroshevsky (flute), etc.