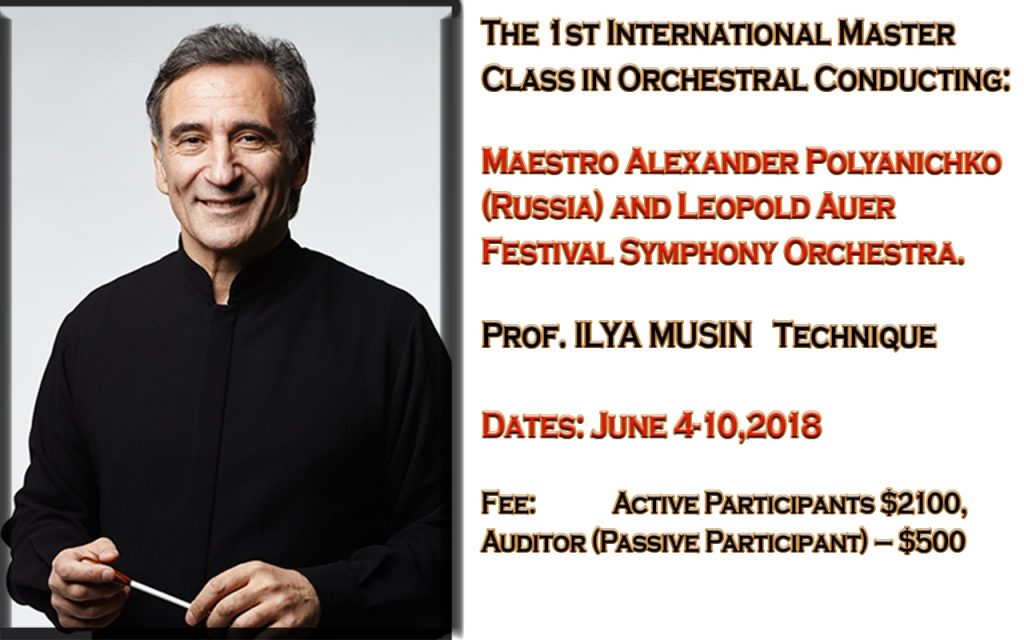 Maestro Alexander  Polyanichko (Bolshoi Theatre Moscow, Mariinsky Theatre ,St. Petersburg)
APPLICATION FEE: 

$50
Dear Friends
We would like to invite you and your musical friends to participate in the 1 st International Master Class in Orchestral Conducting in Kansas City with Maestro Alexander Polyanichko.

The course is based on the famous CONDUCTING TECHNIQUE of Prof. ILYA MUSIN, the teacher of world renowned conductors such as Yuri Temirkanov, Valery Gergiev, Semyon Bychkov and many others.
DEADLINE:

MAY 25, 2018 !!!

Master class information:
This workshop is open to conductors at all levels of
proficiency, from beginners to professionals.

There is no age limit.

The official language is English and Russian.

Participants will work with two piano for 2 days and with the orchestra for 4 days.
Each participant will conduct the orchestra every day for at least 30 minutes (total 2 hours on podium, plus the dress rehearsal and the concert).

Assistance with Visa issuance (i. e. Invitation Letter) for USA is available 

Assistance with finding accommodation.

All sessions can be videotaped.

Final public concert will be videotaped. The performance DVD will be sent to each participant free of charge (i. e. included in the price of the master class).
All active participants will conduct at the final public concert.


EACH PARTICIPANT IS GUARANTEED AT LEAST 120 MINUTES AT THE FRONT OF THE ORCHESTRA (30 MINUTES EACH DAY), PLUS DRESS REHEARSAL AND THE CONCERT – THAT IS 150 MINUTES ON THE PODIUM .
Additional time is possible.

The workshop fee covers all master class sessions.

A Certificate of Completion will be issued to each participant, whether active or passive, after the final public concert.
Places are limited